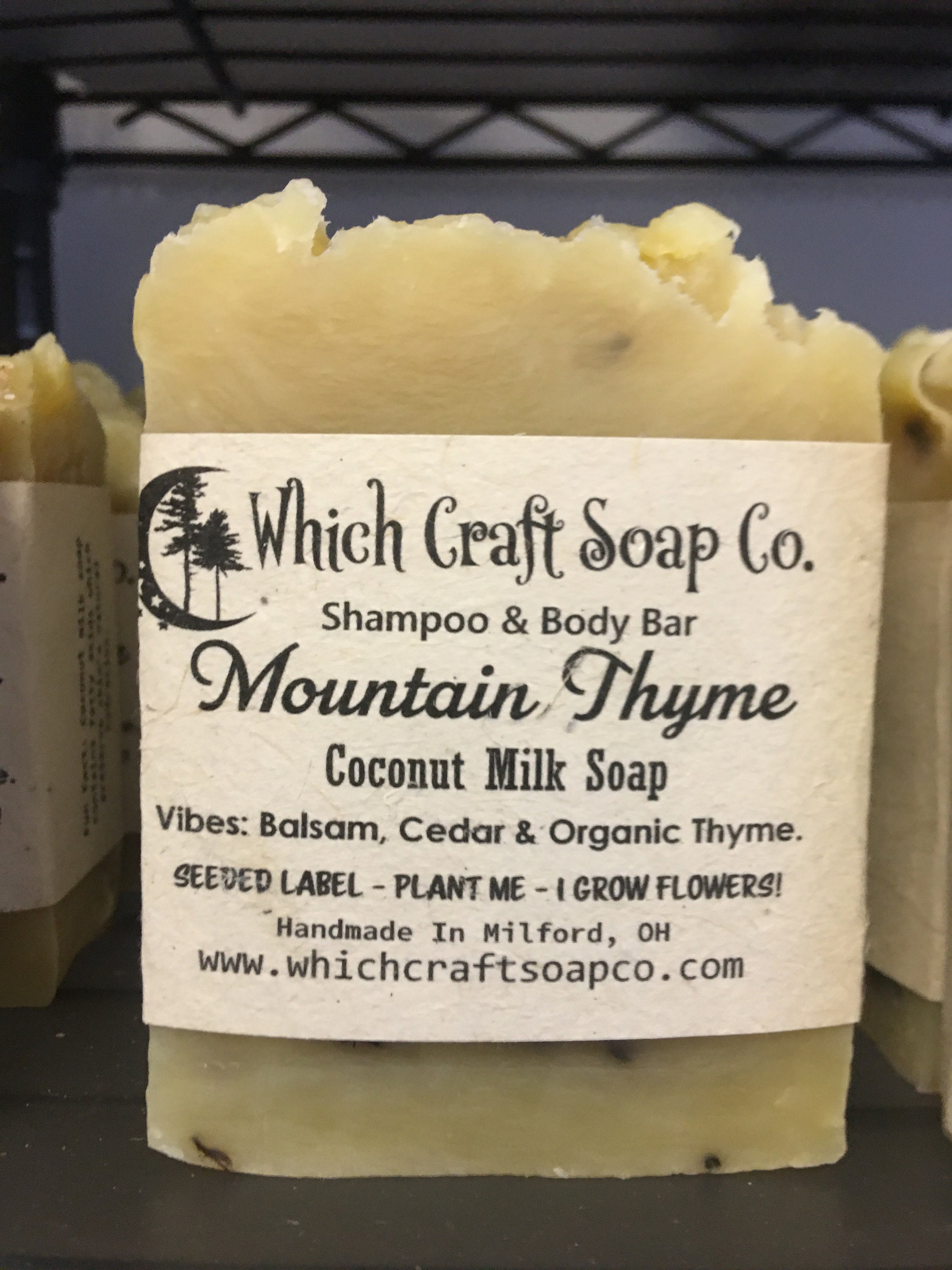 Mountain Thyme Coconut Milk Shampoo & Body Bar . Super sudsy full of relaxing Balsam & Cedar fragrances.

Health benefits of Coconut milk soap....

1.- Deeply cleanse the skin
The best thing about coconut milk soap is that it cleanses the skin from the inside without causing excessive dryness.

2.- Moisten thoroughly
A large number of nutrients and fatty acids in coconut milk soaps offer intense hydration for dry, dull, and lifeless skin.
Unlike other soaps, coconut milk soaps do not dry out the skin while cleaning it.
On the contrary, the super hydrating properties of coconut milk soap help restore lost moisture to the skin by rejuvenating the cells. As a result, we obtain soft, supple, and smooth skin.

3.- Keeps aging at bay
When coconut milk soap is used repeatedly, a significant delay in the symptoms of premature aging can be evidenced.
Recently it was discovered that one of the greatest health benefits of coconut milk is precisely a large number of antioxidants it has, such as vitamins E and C, which in addition to enriching the skin, progressively reduce free radicals that are often harmful to the body also can prevent oxidative damage that is caused by them.

Another thing that you should take into consideration is that the frequent use of coconut milk soap can prevent the appearance of wrinkles, as well as fine lines and damage caused by sun exposure, in the same way, it prevents spots and the appearance of sagging skin.

4.- Repair damaged hair
Coconut milk is a wonderful source of protein, which is the building block of hair.
Therefore, using coconut milk soap on your braids can make them stronger and healthier.
In addition, it is loaded with vitamins, minerals, and essential fatty acids, which provide maximum nutrition to both the scalp and the locks.
And at the same time, it successfully repairs all kinds of hair damage.

5.- Conditions the hair perfectly
The fatty acids present in coconut milk not only hydrate the skin but also condition our hair.
So, if you have dry, damaged, and brittle hair, you should give her coconut milk soaps to try and replace the lost moisture and shine in her locks.

6.- Boosts dandruff
Being rich in essential nutrients, coconut milk soaps can nourish your scalp and nourish your hair follicles efficiently.
It also keeps the scalp soft and hydrated, which prevents dandruff formation by regulating dryness, flaking, etc.

Ingredients: Coconut Milk, 100% Saponified: Coconut Oil, Olive Oil, Soybean Oil, Rice Bran Oil, Castor Oil, Organic Shea Butter, Sunflower Oil, Organic Hemp Seed Oil & Fragrance.

All of our label's are printed on SEEDED PAPER! You can plant them and they grow flowers and little plants! How Cool!

Average Weight 6.5 ounces

For best results: Keep soap out of direct water and store on a well drained soap dish! Use a loofah or exfoliating bath mitts for a super rich bubbly lather.